THIS IS THE MOST AWESOME BREAKFAST CEREAL IN THE WHOLE WORLD!…IN MY OPINION.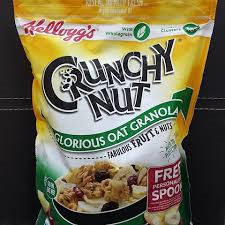 I love breakfast cereal and this one is my favourite. It's awesome. So awesome that out of 8 potential servings (as stated on the box) it was gone in 2.
That's the danger with cereals, most people eat way more than the serving suggestion.
There's 360 grams of cereal in this packet, split into 8 45g servings. But, if you're like me and you hammer a whole pack in 2 servings then you may need to rethink what you have for breakfast if you're trying to lose weight.
I know they taste damn good but a 180 gram serving like I just had has set me back 969 calories, 42.5g fat, 120g carbs and 21g protein when I include the 250ml semi skimmed milk.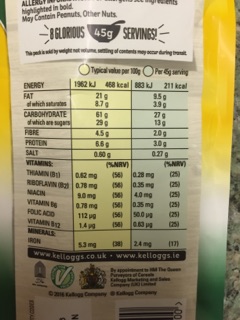 The flexible dieting approach can be useful here, but if you're not really paying attention to your diet then breakfast cereal can really add up and push you well over your calorie limits.
I can't tell you how many times I used to come home from a long day of PT and absolutely nail half a box of Alpen blue (the sugar free one) smothered in honey and milk. I know it seems pointless adding honey to sugar free cereal, but just wait until you try it. It's glorious.
WHAT CAN YOU DO TO AVOID THIS?
To get around this problem it can be useful to get yourselves a set of measuring cups and scales. Or simply, if you're a cheapskate, get a disposable coffee cup. The next time you have cereal weight out the suggested serving on the back of the box, place it into the coffee cup and mark with pen a line where it comes to. That way you have a free measuring cup and each time you have the cereal you can use your trusty coffee cup to make sure you are getting the suggested serving size and not smashing your calorie limits slowing down your progress.