I write a lot about weight loss diets or muscle building meal plans as many people have these goals and aspirations to change their body in one way or another.
But what about the people who are just looking to be healthy? The people who are content with their physical condition (they are rare but they should be well regarded) who workout a few times a week at a low-to-moderate intensity for health benefits, do pilates or yoga, stay active on a daily basis by walking as much as possible and who eat for health, maintenance, taste and pleasure rather than for creating a change in their physique? For these people, or for those who aspire to this place of moderation, what would be a perfect day's eating and what should you eat for a healthy life?
The basics of a healthy diet
Everything in moderation – something my mother and grandmother have always preached. This is the exact concept that a maintenance diet can take, balancing carbohydrates, proteins, fats, vitamins, minerals and antioxidants, as well as balancing regular healthy eating patterns with little treats and heartier portions.
Eat natural foods – eat foods that are made with natural ingredients or are in their natural form such as a fresh pasta rather than dried, vine tomatoes instead of tinned and cuts of meat rather than processed options. The 'natural' choices provide the greatest health benefits.
Drink water – water makes all processes in the body function properly. In addition, loose leaf tea provides great antioxidant properties and hot lemon and ginger is a fantastically cleansing combination.
Eat a little and often  – this helps you perform at your best throughout the day, mentally and physically, as your blood sugar can remain balanced; plus, you can enjoy and experience a greater variety of foods that way.
Unrefined options are best – even if you have foods with only natural ingredients such homemade bread or mashed potato, the unrefined varieties are the best sort; think: wholewheat pasta and bread, brown rice, sweet potato, jumbo oats.
Bright colours create a bright mind – fill your plate at each meal with a mixture of vibrant colours as these provide an array of vitamins and minerals to put that spark behind your eyes.
Think 'light and bright' not 'dense and decadent' – everyting in moderation, yes, but rich foods shouldn't be a staple. Even though they are natural, red meats, cream, cheese, butter etc. should be kept for your high days and happy days to help the longevity of your heart and digestive system.
Taking all of these into account, I will provide an example of a day's healthy eating for those looking for health, maintenance and for the enjoyment of food. The same basics can be used across all culinary cultures – today, I will take inspiration from a standard 21st Century British kitchen.
A diet for health and maintenance
Breakfast
Jumbo oats, made into porridge with fresh organic cow's milk, topped with: bright and beautiful blueberries, strawberries and blackberries; a scattering of mixed nuts and seeds; and a drizzle of local honey.
Hot water with freshly squeezed lemon and a shaving of fresh ginger
Mid-morning
Avocado slices and diced tomatoes on a thin square of toasted, freshly baked rye bread
Fresh loose leaf green and peppermint tea
Lunch
Starter
Homemade carrot and coriander soup
Main
Grilled free-range chicken in a salad with organic vegetables: butternut squash, spinach, rocket, beetroot, pomegranate seeds, cucumber and a cubed hard boiled egg, dressed in extra virgin olive oil.
Water
Mid-afternoon
Vibrant batons of bell peppers with heaps of homemade hummus
Loose leaf green tea
Dinner
Main
A line-caught wild salmon fillet roasted with garlic, lemon zest and dill, alongside roasted sweet potato cubes, and accompanied by grilled asparagus and steamed broccoli.
A glass of wine
Dessert
Natural Greek yoghurt with a sprinkling of chia seeds and a shaving of 90% dark chocolate
Chamomile tea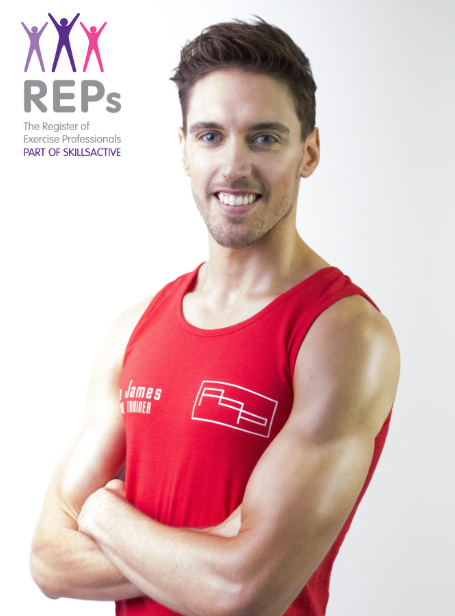 Chris James MA O.A. Dip
Executive Director
Fitness Body Pro, London Life Balance and VidFit LTD
Tags:
body
,
diet
,
food
,
health
,
healthy
,
healthy eating
,
lifestyle
,
Nutrition
,
Practical Tips
,
weight