We seem to be sprinting towards the end of 2016 at some pace at the moment. So much has happened this year that it just seems to have raced by. I have no problem with the end of 2016 coming up quickly, what I do have a problem with is the beginning of 2017! The early months where it is freezing cold, the days are short and most annoyingly, gyms are all packed full of New Year's resolutioners!
This year I thought I'd plan early for those months when the gym is just too busy, so I've decided to get myself outside and do some runs while I wait for everything to die down and go back to normal. So the two reasons to read on, firstly if you have the same issues as me, or secondly if you're just looking for some great runs in the city, the following may be of some help.
Now to narrow down the best runs in London I needed to get the thoughts of the "Experts" (hence the title of the blog) and I've got the opinions of 3 sources who all definitely deserve that title.
The Experts
The three sources are Hayden Shearman, Charlie Watson and Nikkita and the team from RunGo app. As you read through you will hear a little bit about why they are the experts I selected as well as the routes they chose.
First up, I spoke to Hayden Shearman, the author of the excellent, Runners Guide to London. 
Hayden has run in every borough of London, has planned over 100 routes and has literally written the book on London runs. His pick of the London routes is the Tamsin Trail in Richmond Park.
Tamsin Trail, Richmond Park 
I very quickly saw why this run is Hayden's favourite. The park itself is stunning before we even thought about running through it. He explained the trails were soft underfoot which is perfect, if like me, you get some joint pain on longer road runs. Hayden pointed out also that you can enjoy the amazing scenery and run so close to wild deer on this route while you are still completely in the middle of suburbia, so you always have the option of stopping to grab a drink or to catch a bus home if you need to. It is definitely worth giving a go and 100% goes in as one of London's top runs! At just under 7 miles (11k) this one can be enjoyed by everyone and I'd definitely echo Hayden's recommendations.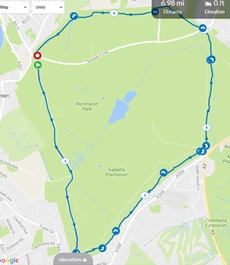 For more information on the route from Hayden, check out http://www.runnersguidetolondon.co.uk/tamsin-trail-richmond-park.html
If you'd like to get more information or to purchase the brilliant book; Runners Guide to London, then here's a link for that too! Enjoy!
http://www.runnersguidetolondon.co.uk/the-book.html
Next up I spoke with Charlie Watson. Charlie is the author of the excellent and very entertaining running blog; The Runner Beans. Londoner, Charlie has been blogging and vlogging since 2011 and in that time has trained for and completed the London, New York, Paris and Berlin marathons.
Charlie's pick for the best run in London was The Thames Path from Putney Bridge to Richmond.
The Thames Path 
Charlie informed us that the south side of the river on The Thames Path was an excellent run and we couldn't agree more. She explained that with no traffic lights or anything getting in your way you can run for miles without having any annoying stoppages. There is so much to see on this run. It takes us down the Thames past Kew, Chiswick, Barnes and Hammersmith Bridges as well as the old Harrods Furniture Depository. You even spend some time running alongside Kew Gardens and see the palace and observatory on your way. It's extremely tranquil and relaxed and is probably the most peaceful run in London. Perfect for a Sunday for a relaxed jog or maybe to keep your mind busy as you detox from a heavy Saturday night. The beauty of this run is that you choose the length. Go on down the path for as long as you want to keep going, although I must warn you, if it's not planned properly you can easily go a bit too far by accident with all the interesting sights! This is another that has to be given a try and goes straight into our list of Top London Runs.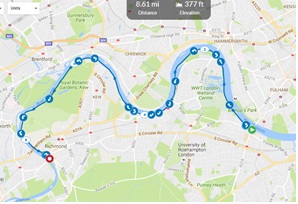 Check out Charlie's website for her blog, vlog and updates on her running, training and manoeuvring through general life. It's full of excellent and interesting reads.
www.therunnerbeans.com
Or follow her on twitter for her updates @charliedwatson
Lastly I spoke to the guys over at RunGo App, an app that verbally directs you around running routes all over the world. With over 100 routes in Greater London alone I asked for their teams favourites. Fortunately, they gave me not one, but two outstanding routes to check out around the city and I thought they both deserved to make it into our best routes.
London Running Tour
This route is probably the best sightseeing route I've ever seen or heard of anywhere in the world. At only 4 miles long it's accessible to runners of all abilities and is even walkable in not too much time at all.
It's probably easiest to just look at the map below and you will see what I mean but I will attempt to explain the complexities. You begin your run at Big Ben and head towards parliament square, you then move all the way around the outside of Westminster Abbey and go back towards St James Park. Keeping the park on your left you head straight until you turn right to go past Churchill's War Rooms. Go all the way round the Imperial War Museum and past the end of Downing Street. Next you enter St James Park and enjoy the tranquillity of a loop around the lake with views of Buckingham Palace at the far end. Back out of the park, over to Trafalgar Square and then down the strand until you pass Charing Cross Station. Turn down to embankment and over the Golden Jubilee Bridge, you then get to run down past the London Eye, London Aquarium and lots of other tourist attractions, all whilst keeping the river Thames on your right hand side. Finish the loop by coming back across Westminster Bridge and you've almost seen all the major city sights (13 places) on your way round. A brilliant suggestion and probably my favourite, this one is up there with the best in the world. Perfect for visitors from overseas who only have a short amount of time to see as much as possible.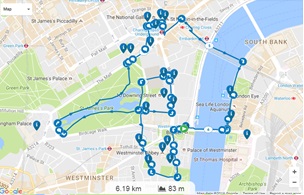 Olympic Park Scenic Tour
The teams other suggestion that I really liked the sound of, was heading out east to an area between Bow, Hackney and Stratford and doing a scenic route around one of London's most recently regenerated areas, The Olympic Park.
The scene of all those triumphs at London 2012 and the great memories of the games are an excellent motivator to keep you going around this delightful route that takes you past the Copperbox, Velodrome, Aquatics Center and of course the London Stadium. The route is completely on tracks around the park so it means no stoppages or worries about traffic and it really breaks it up being able to go from sporting venue to sporting venue and having a good look on the way round. Not only that but the park is lovely and green and has some great views as well as crossing the river twice. A great run for sports enthusiasts, not too heavy on the joints and very quick at only 4.8k, the shortest run of our selections but just as special to undertake.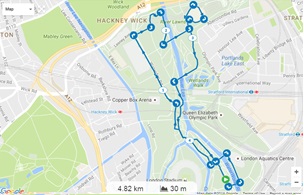 The RunGo app is free to download and its verbal instructions mean you don't have to keep checking your phone to make sure you're on the right track. It's well worth a look and you can find more information on the app at the link below.
www.rungoapp.com
And there you have it! The best runs in London according to the experts! To Hayden, Charlie and to Nikkita and the team at RunGo, I'd like to say thank you for getting back to me with your thoughts and opinions and making this possible. I hope everyone has enjoyed hearing about the best London runs and I hope you get to enjoy all of them and they keep you out of the gym long enough for the January rush to calm down. If not you can always try my personal favourite, The Greenwich Park loop. I wouldn't call myself a running expert but the park is beautiful, the views over London are stunning, you get to have a real good look at the Old Royal Naval College at the bottom of the hill.
5 Amazing routes to try!! If you have any more suggestions, I'd love to hear them.
All route pictures were created using the 'create a route' function on the RunGo app.